Welcome to Akademikliniken's 15th International Aesthetic Medicine Congress in Stockholm, June 5-8, 2019 (Plastic Surgery, Dermatology, Aesthetic Medicine)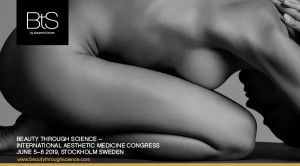 With the start in 2002, the next congress will be our 15th anniversary and we hope you will join us, June 5-8, in Stockholm. During the four-day congress you will have the opportunity to hear about the latest trends in aesthetic medicine and listen to international key opinion leaders and experts who will come and share their valuable knowledge and latest innovations. We have seen a steady growth in the number of participants over the years since our first congress in 2002 and in 2018 we were almost 980 participants.
Aesthetic medicine is no longer limited to surgical procedures as it was decades ago. Today, the non-surgical field is of great importance for both plastic surgeons and other aesthetic physicians. We will therefore continue to have parallel sessions, as previous years, where a full program on both non-surgical and surgical topics will be covered. This year I am delighted to have included Dr Hema Sundaram as a director of the non-surgical program for BTS 2019.
On the first day of the congress, Wednesday, June 5, we will have live demo with both surgery and injectables. In the live surgery, transmitted live from the operating rooms in Akademikliniken, many different operations with the latest facelifting techniques, rhinoplasties and body-contouring will be demonstrated by international experts. In addition to this, several breast augmentation methods will be shown live. In parallel there will be a live transmission of injection cases using both fillers, toxins and fat dissolving products as well as cryo-lipolysis. We also intend to show latest laser resurfacing techniques.
Thursday, June 6, from morning until lunch, will be devoted to topics of great interest for both surgeons and non-surgical practitioners and includes a keynote lecture, an industry tribune, followed by the traditional BTS Cup. Then the congress will split up in a non-surgical and a surgical session and this format will also continue on the third and into the fourth day of the congress.
This year, the surgical program will on Thursday afternoon focus on the facial aesthetic surgery and the whole of Friday will focus on breast surgery. Saturday will focus on rhinoplasty surgery and in the afternoon a body contouring session.
The non-surgical program will include in-depth advanced demonstrations of anatomy as well as new techniques for full facial treatments. It will also include an advanced session on the latest scientific developments in the use of cosmeceuticals as well as the latest laser technologies.
In the early evenings and mornings of the congress, there will be in-depth workshops where hour-long lectures on different topics on aesthetic medicine will be covered. These workshops have limited number of participants but are free of charge.
On Friday night, June 7, we will host our traditional congress dinner with food and entertainment. I have frequently heard from previous years' participants that the BTS congress dinner is better than anywhere else so please come and join us and make this a memorable evening.
Stockholm is one of the most beautiful capitals in the world and particularly in June it offers its best side. It is also a city full of good restaurants and culture, making our fantastic city well worth visiting.
Welcome!
Per Hedén
Congress President and Surgical Program Director
---
---
History:
In 2002 Akademikliniken had its first international symposium, this was a relatively small meeting focusing on breast implant surgery. Thanks to very good response and demand for more meetings we have been stimulated to continue with these symposiums, which now have grown to become the largest aesthetic medicine meeting in Scandinavia.
Even if aesthetic breast surgery still is a central part of the meeting we now also focus on many other parts of plastic surgery and aesthetic medicine. In a 14-year period the number of participants has increased from 150 to 986 from more than 50 countries. This in combination with excellent support from the industry makes it possible to invite and host a well-known and large faculty of experts, obviously a prerequisite for a high scientific standard and success of the meeting.

Confirmed attendees