11. - 13.10. 2019 Aesthetic Surgery Conference Anti-Aging & Aesthetic Medicine Symposium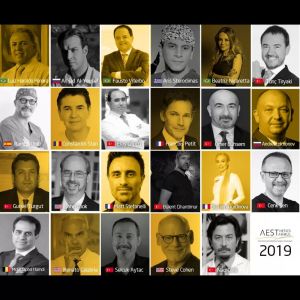 The concept of Aestheticstanbul, which we carried out for the first time last year had a wide coverage both in the world and in the Turkish press as follows:
Under the sponsorship of Estetik  International Health Group in Estetik International surgery theatres in total 21 Live surgeries were performed. It was a symposium where aesthetic surgeons, surgeons of different branches and medical students could watch live performed surgeries. The audience in the conference room of Fairmont Quasar Hotel could also interactively join the operating rooms asking questions. The symposium was quite didactic and impressive for his participants.
Another highlight of the symposium was that aesthetic surgeons performing surgeries were world-renowned professionals and each had special techniques in their own branches. The audience was able to watch all these techniques  live, and discuss new methods and  different experiences.
In Aestheticstanbul 2019 there are also some innovations this year.
A medical aesthetic and dermatology workshops and presentations will be held under the title of Anti-Aging Medicine in a different meeting room of Fairmont Quasar Hotel.
During the symposium,  the best world-class faculty from all around the World will bring us the most recent and successful surgical techniques. This meeting is unique with its three days live surgeries in three seperate operating theatres and simultaneous Q&A sessions.
All participants can network and enjoy the most mystic city Istanbul, where Asia and Europe meet.
We look forward to meeting and welcoming you all to Istanbul!
Organizer
Registration Secretariat
B Academy
Özlem Boyvoda :+90 (541) 411 50 29
Narmina Erdem : +90 (549) 365 23 10
info@aestheticstanbul.com
Organizer's website
Event languages
Deutsch
English
по-русски
Türkçe