The last year meeting of delegates of plastic surgery societies from Czech Republic, Poland and Slovakia in Polanica Zdrój initiated the creation of Visegrád Plastic Surgery Project, which aims at integrating plastic surgeons from V4 Group member states.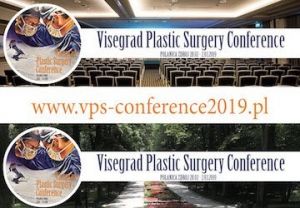 The conference is a unique event specially tailored for Plastic Surgeons and Residents. We plan to organize our meetings annually, in subsequent V4 Group countries. The first conference will be held in Polanica Zdrój - the cradle of Polish plastic surgery. We hope that the interesting program will attract not only practitioners from V4 Group states, but also from the neighboring countries, to Polanica Zdrój.
The lecturers will include both the leading plastic surgeons from Czech Republic, Poland, Slovakia and Hungary, but also world famous lecturers from outside the V4 Group.
The conference features world renowned surgeons and faculty speakers discussing the latest innovations like: the aerodynamics in the human nasal cavity (Prof. Bernt Schmelzer from Belgium), breast surgery (Prof. Magnus Noah from Germany and dr Patrick Mallucci from the United Kingdom) nerves reconstruction, hair transplantation and others.
Our conference is associated with premiere of B-Lite: The World´s First & Only Lightweight Breast Implants. The detailed program of the conference will be published soon - it includes Morning courses, Lunch with experts and Afternoon General Sessions. It will take place in perfect space of Hotel SPA Dr Irena Eris.
We also plan skiing competition in the nearby Ski Center Zieleniec. The whole will be topped with attractive evening meetings.
Visegrad Plastic Surgery Conference from Estheticon on Vimeo.
We do hope that the scientific content of the conference and our "Get together" program will meet the expectations of everyone, who will visit Polanica Zdroj, Poland in March, 2019.
Confirmed attendees

Organizer
Klinika Kolasiński
info@klinikakolasinski.pl
Agnieszka Zygmunt, Divisia Sp. z o.o.
konferencje-eventy-szkolenia
agnieszka.zygmunt@divisia.pl
+ 48 726-888-818
Organizer's website
Endorsed by:
ČSPCH - Czech Plastic Surgery Society
SSPECH - Slovenská spoločnosť plastickej a estetickej chirurgie
PTChPRiE - Polish Society of Plastic, Reconstruktive and Aesthetic Surgery
MPHEST - Hungarian Plastic, Reconstructive and Aesthetic Surgical Society