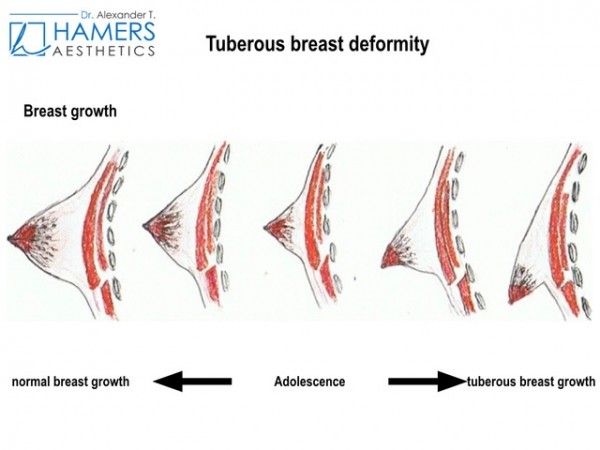 Indications
Tuberous breasts or the so called "snoopy nose" breasts (named after the comic dog with his prominent nose) are underdeveloped or malformed breasts. In most cases, the lower pole of the breasts is missing or it is too small compared to the upper part of the breast so the under breast fold is too high and too close to the nipple and areola. The areola can be huge and bulky. Frequently there is an asymmetry between the size of the breasts. There are various classifications in literature (I-III).
Type:
Base
Inframammary Fold
Skin Envelope
Breast Volume
Ptosis
Areola
I.:
Minor constriction
Normal laterally, minor elevation medially
Sufficient
Minimal deficiency or hypertrophy
Mild, moderate or severe
Enlargement
II.:
Moderate constriction
Medial and lateral elevation
Inferior insufficiency
Moderate deficiency
None or mild
Normal, mild or moderate herniation
III.:
Severe constriction
Elevation of entire fold or fold absence
Global insufficiency
Sever deficiency
Mild/moderate
Severe herniation
Treatment
According to the individual case and degree of malformation and to the fact if a breast augmentation (More information about breast augmentation >>) is desired or not, there are basically three different treatment options:
Breast reconstruction using the body's own fat tissue for fat grafting.
A combined breast reconstruction with mastopexy and breast implant.
A breast augmentation with anatomic shaped implants.
1. One option is the stepwise breast reconstruction with fat grafting. By performing a liposuction (Learn more about liposuction here >>) (various techniques exist), fat tissue from various (undesired) areas can be used (love handles/flanks, belly, thighs, etc.) and be transferred to the breast (to the subcutaneous tissue and the pectoralis muscle).
This option is perfect for women desiring an improvement in breast shape without looking for a real augmentation in breast size. Fat grafting can nicely fill in the lack of volume in the underdeveloped parts of the breast and can shape the breasts. But the transferable amount is limited per session (operation) and normally equals to half a cup size in volume increase. The downside in this most natural option is that often more than one operation (session) is needed to acquire the desired result. The main benefit is, that no foreign material (implant) is needed.
2. The most common therapy option is a combination of a peri areolar mastopexy (a breast lift around the areola) with unfurling of the gland of the breast and silicone breast implants. Mostly anatomic shaped (tear drop shaped) implants, placed under the pectoralis muscle are used. In most cases this is combined with fat grafting to shape and fill in the underdeveloped areas of the breasts and to achieve a more natural result. Fat grafting especially helps to narrow the for tuberous breasts typical wide cleavage.
This area is without fat grafting hard to treat, given by the insertion of the pectoralis muscle at the lateral borders of the sternum and thereby no possibility to close this gap with subpectoral implants. Asymmetries of the breast shape can also be corrected with fat grafting.
3. In cases of lesser deformity of the breasts a "normal" breast augmentation with anatomic shaped implants may be enough. To achieve the most natural result and to narrow the mostly separated breasts, a fat grafting is in most cases also necessary.
Fat grafting: In all 3 options, fat grafting is recommended, consisting of a liposuction with fat transfer to the breast. The current tendency leads to the benefits of a water-jet-assisted liposuction (WAL). Some studies lead to a better quality of the extracted fat cells using WAL, leading to a higher "take" rate of the transferred fat (higher percentage of fat cells surviving in the new place).
Furthermore the latest advantage of the transfer techniques, expansion vibration lipofilling (EVL) seems to revolutionise fat grafting. This technique is expanding and loosening up the recipient field during the transfer using vibration, leading to a higher transferable volume and it also seems to lead to a higher "take" rate.
All three options of surgery are normally performed under general anaesthesia with one night stay in the clinic. Prior to a general anaesthesia a fasting period of six to eight hours is required, meaning apart from solid food no liquids, no chewing gums and no smoking – as not told otherwise by your anaesthesiologist.
Usage of drugs affecting the blood clotting like Aspirin®, acetyl salicylic acid, phenprocumon (Marcumar) or others should be stopped a few days up to a week prior to the surgery according to your doctor. If these drugs are taken on a regular basis, talk to your plastic surgeon about the substitute options. Since smoking is impairing the wound healing, it is recommended to stop smoking one or two weeks prior to the surgery and at least the first two weeks afterwards, including all kinds of nicotine (chewing gums, electric cigarettes and patches).
Recovery
Patients should refrain from sports, heavy lifts and physical workout for about six weeks after the surgery. Arms should not be lifted by more than 90 degrees.
For the first four to six weeks, the special support bras are worn 24/7.
Even if the tuberous breasts are seen as a breast deformity, a certificate of incapacity for work can usually not be given since from the public health sector it is mostly seen as an aesthetic issue. Therefore the patients should consider their individual work and ask their plastic surgeon for advice regarding the necessary time of absence from work.
Result of the surgery
The individual result depends on various factors. First and in most cases the most important is the individual precondition of each patient. In your consultation with the plastic surgeon, an individual treatment plan should be made and possible results and limitations should be discussed.
Every patient needs to find the right plastic surgeon for her individual case and and she needs to trust him. There is a large number of under-qualified surgeons offering aesthetic surgeries. In Europe, one of the attributes to be considered should be the specialization in plastic surgery (board certificated) or a membership in one of Europe's national societies of Plastic Surgery, best in the country of practice.
Last but not least there is the patients' part. Abstinence from nicotine is as important as to stick to the surgeons recommendation like refrain from physical workout and heavy lifts for the recommended time.
Complications
Like every other surgery, breast reconstructions/breast augmentations have their risks.
The most important are:
Bleeding
Infections
Capsular fibrosis
Rotation of anatomic implants
Hypertrophic scarring / Keloids
Reduction or loss of sensibility of the nipple and areola
Contraindications
Like all aesthetic surgeries, they are limited only to healthy adults who are neither pregnant nor breast feeding. If the patient is planning to get pregnant in the near future, it is recommended to postpone the surgery after the birth of the child and about six month after stopping breast feeding.
Published: 2018-02-08