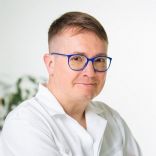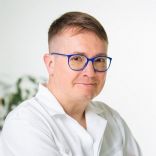 doc. MUDr. Roman Šmucler CSc.
Stomatology Prague
99% < 1 day
inqueries
answered typically
responds
Review
Share your experience
Have you had a personal experience with doc. MUDr. Roman Šmucler CSc.? Help our users and write about it.
Our profile - doc. MUDr. Roman Šmucler CSc. - Stomatology Prague
Membership


Other membership:

AAID - American Academy of Implant Dentistry

ASLMS - American Society for Laser Medicine and Surgery

ČSK - Czech Stomatologic Chamber

ČSMC - Czech Association for Maxilofacial Surgery

ČSVLM ČLS JEP - Czech Society for Laser Application in Medicine

ELA - European Laser Association

EMLA - European Medical Laser Association

ISOE - The International Society for Optical Engineering
Our photographs
Show more Show less
Info
Prices from*

Fractional Laser Resurfacing

From

CZK6,500

Laser peel

Laser hair removal

From

CZK400

Laser procedures in aesthetic dermatology

YAG laser

From

CZK790

Laser acne treatment

From

CZK3,200

Laser Scar Treatment

Laser skin tag removal

From

CZK1,100

Spider veins laser removal (redness, birh marks)

From

CZK570

Tattoo removal

Omlazení pokožky (Yag laser)

From

CZK790

Treatment for hyperhidrosis (excessive sweating)
Notice
Please keep in mind the final costs of the treatment can differ from the above listed prices. For more information about the prices please contact the particular doctor / clinic.
Prices are recalculated on a daily basis according to the current exchange rate
Articles
Maximum care and pampering
Close your eyes and imagine indulging your body. Everything you can envision will be fulfilled by SPA Oceana Capsules.
LPG – Get your skin in shape
Firm, rejuvenated, and relaxed skin without cellulite or the efficient preparation of skin for surgical procedures and quick...
Dental Jewellery
Thanks to their position in the lower third of the face the mouth and its surroundings are a frequent location for body art....
Fit and slim!
It's that time again! Soon the air will be full of summer, holidays, and the thought "I want to lose weight and so something...
Skin untouched by time
The very best you can do for your skin is provide it with plenty of nourishment, from without and from within.
Laser operation for snoring
Laser-assisted uvulopalatoplasty is a highly effective method for removing the causes of loud snoring. The procedure, which is...
99% < 1 day
inqueries
answered typically
responds