These days people look for real reviews – whether they're buying consumer goods or ordering services. They want to be sure the reviews come from real customers. Photographs clearly showing the results and added by the author of the review give it authenticity and credibility. They also grab readers' attention and encourage them in making their decision. 
Activate vouchers on my profile
Estheticon review vouchers will:
Get you more high-quality reviews with before/after pictures
Bring more visitors to your profile
Motivate patients to make use of your services more than once
Provide additional services to existing patients
Increase patient loyalty
Motivate existing patients to recommend you to their friends and family
Reward your patients for publishing photographs related to the procedure
Help you get new patients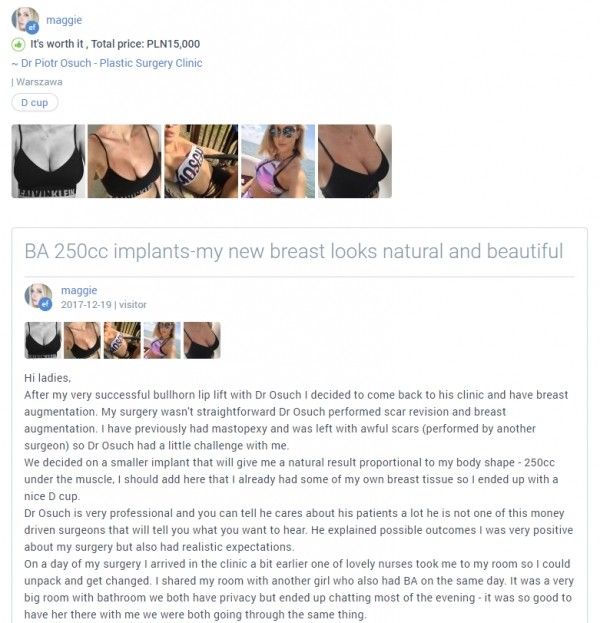 How does it work?
Patients get a voucher worth USD 10 for every photograph they add to a review, with a maximum of 10 photographs for one review. This means patients can win a voucher worth up to USD 100 for products or examinations at the doctor's office they reviewed. They can use the voucher themselves or give it to a friend. Vouchers are valid for one year from adding the last photograph.
Technical details
When the patient uploads the first photograph, the system generates a voucher with a unique code. The voucher increases in value as each additional photograph is added. The voucher holder gives the code to the doctor, who can verify it easily on the Estheticon page.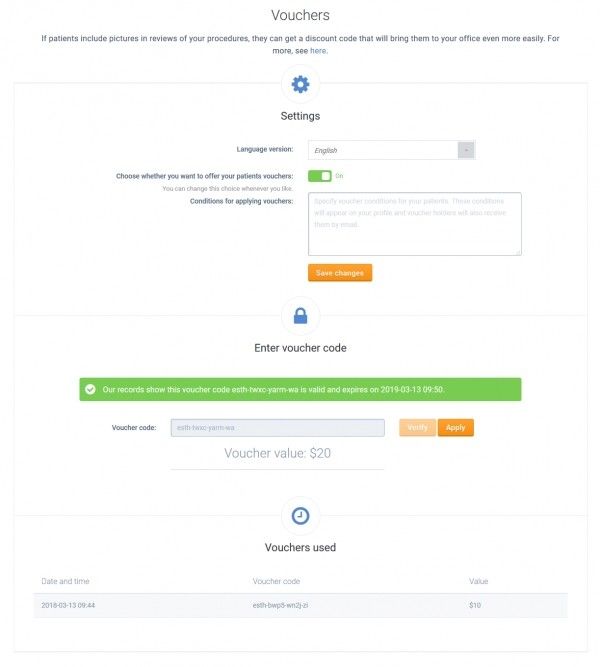 How to start offering this service
Simply go to the section called "Vouchers" in the admin section of your profile to activate the service and consent to the terms and conditions. The activation page also includes a simple validation interface for verifying and validating the voucher, as well as a statistics page for vouchers already validated.
How patients know which doctors offer vouchers
A box appears on the doctor's profile to let patients know this doctor offers vouchers. We also encourage patients to add photographs when adding reviews.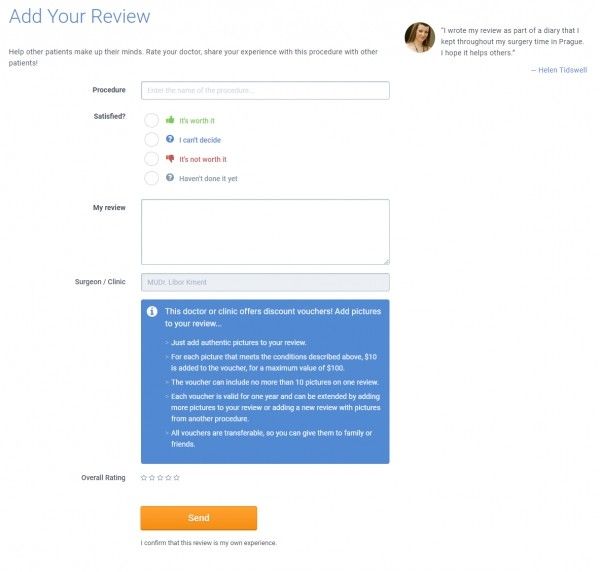 Using vouchers
Each doctor sets their own conditions for using vouchers. These conditions are then automatically displayed on the doctor's profile.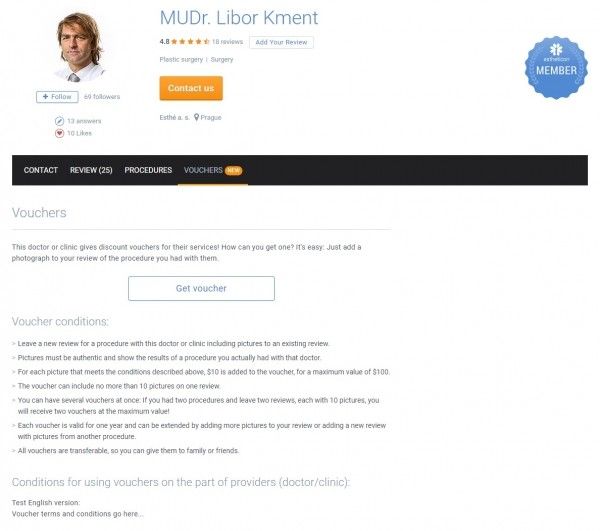 Activate vouchers on my profile
Updated: 2018-03-20